Backyard Productions' youngest producer/director Darren's 11-year-old son, Luke, has written, produced and directed his very own fan-film short based on well-loved characters from Nintendo's games. It was a steep learning curve, although he has produced animated shorts on his computer... [Read more]
Backyard Productions has a new studio This weekend, Backyard Productions moved into its new studio in Waddington, Lincolnshire. We now have our own functional studio complete with lighting, chroma key, camera monitor and most importantly, a kettle! The bare concrete structure with no windows had previously... [Read more]
After 8 months of production, our concept trailer CINDERS is now ready!!! Unlike a short "normal" trailer, this is a longer proof-of-concept piece. CINDERS has not been made yet, this was a test – a BIG test!  Think of it as a summary of what CINDERS could be… But there isn't... [Read more]
On Wednesday (Oct 14th 2009), Darren and Ed attended the Institute of Videographers Trade show and (in the evening) their 20th annual Awards ceremony. Darren was nominated for best film for 'Sugarcubes', and we met Maggie Philbin of 'Tomorrow's World' fame, who was genuinely... [Read more]
As you may already have read in Kevin's great post, Backyard Productions recently had a great weekend filming at Pinewood Studios for our current production, 'Cinders'. They have large, well maintained gardens, which you may recognise from such films as 'From Russia With Love',... [Read more]
Backyard Productions was lucky enough to be able to shoot at Ashby Hall in Lincolnshire on the 12th September 2009. The Gardens and lake are beautiful, and we had sunny weather for our scenes with the King, Queen and Minstrel. We also filmed inside in an attractive panelled dining room (for the castle... [Read more]
At the beginning of September, we had a very busy few days filming at Sundown Adventureland. On Wednesday 2nd, we filmed the Prince and Dandini in several locations around the park, then, at the weekend (4th-6th), when MANY more extras arrived, we filmed scenes at Cinders' cottage with the Ugly... [Read more]
Backyard Productions were fortunate to have the use of the University of Lincoln's TV studio to film some of the interior and exterior bluescreen work for the Cinders trailer. A new experience for many, we had a very productive three days at the end of August. The sets and props designed and overseen... [Read more]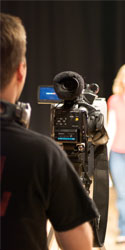 Backyard Productions has just held its first ever auditions, and they were a resounding success. Word of the latest project seems to have spread as there were auditionees from as far afield as Preston, Norwich, London, Ipswich, and some homegrown Lincoln talent. Dom Gilvary hosted the proceedings exceptionally with a fabulous spread of sandwiches and […] [Read more]
Backyard Productions is delighted to be working with The Movieum of London, who will be following and publicising the progress of Cinders production over the next few months. Darren (Executive Bully) and Mark (Music Maestro and Writer) had a meeting with them earlier this week, and one of the first things the Movieum is helping us with, is by providing a great space for the London auditions.
You can find the Movieum right on the South Bank, next to the London Eye, it should be easy to find if you follow the directions in the great little video Darren and Mark produced (below), which also gives you a little glimpse of the large collection of amazing props and costumes the Movieum has on display. The exhibits are constantly changing, so even if you've been before, it's well worth another visit. They have some fun interactive exhibits too, and the kids can even make their own movie while they are there.
Directions: From Waterloo Station, cross York Road (via the footbridge is probably the safest way – it's a busy road), then cross the large plaza, or walk down Chicheley Street towards the London Eye (the big wheel with pods on). The entrance to County Hall and the Movieum is just round the corner to the left (it faces the River Thames).
NOTE: Our London audition is now closed, so the specific directions are for auditionees only, unless you are looking to visit the Movieum of London, which is right next door.