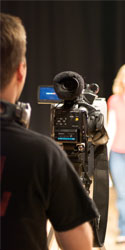 Backyard Productions has just held its first ever auditions, and they were a resounding success. Word of the latest project seems to have spread as there were auditionees from as far afield as Preston, Norwich, London, Ipswich, and some homegrown Lincoln talent. Dom Gilvary hosted the proceedings exceptionally with a fabulous spread of sandwiches and […] [Read more]
The Mother of backyard productions (Janine) reached a new pinnacle of fame… For a whole ten minutes!
"A Sara Mahoney contacted me on Skype asking 'are you THE J9 ?' Well yeah, my nickname at work is J9…….as in Ja nine. So yeah, I guess I could be THE J9. I can't remember a Sara Mahoney at work but there's been plenty of Sarahs come and go, and my memory isn't all it was. So, I added her to my Skype.
A while later she Skype phones me. I didn't answer because I was in the middle of internet banking and didn't want all my millions to be Skyped to her!
When I finished checking my bank balance, and realised that I don't have millions anyway, I saw that she was still on line.
So I message her
'who are you?'

'Helsinki. Please can you phone me?' she says.

'I can't phone, the volume on my computer is playing up'

'I understand'

'Remind me which Sarah are you are'

'Mahoney'

'Can't remember the surname, did I work with you?'

'Are you not dancer Janine? As in J9?'

'No I'm not a dancer 🙂 '

'Woops, sorry…wrong Janine Russell' she says, and promptly hangs up!
I get to thinking, "so who is this 'Janine Russell from J9' person that she thought I was?" And being as I was rushed off my feet with a million things to do before I go on holiday…. I thought I would spend an hour or two googling her.
I'm sure you will be as thrilled as I was to find out who she is:
Did you enjoy that as much as I did?
Apparently I'm the one with the huge feathers prancing around in the background with the half-naked man with lumpy trousers, (not one of the warblers to the side!)
Sara Mahoney was probably disappointed that I'm not the REAL J9. Whereas I……. now have to go on holiday without half my stuff! 🙂
The Mummy x"
Can anyone top The Mummy's brush with fame?
Once the filming is complete, there will be lots of computer generated enhancements to produce. If you enjoy spending hours in front of a computer screen then we'd love to get to know you! [Read more]
Backyard Productions is delighted to be working with The Movieum of London, who will be following and publicising the progress of Cinders production over the next few months. Darren (Executive Bully) and Mark (Music Maestro and Writer) had a meeting with them earlier this week, and one of the first things the Movieum is helping us with, is by providing a great space for the London auditions.
You can find the Movieum right on the South Bank, next to the London Eye, it should be easy to find if you follow the directions in the great little video Darren and Mark produced (below), which also gives you a little glimpse of the large collection of amazing props and costumes the Movieum has on display. The exhibits are constantly changing, so even if you've been before, it's well worth another visit. They have some fun interactive exhibits too, and the kids can even make their own movie while they are there.
Directions: From Waterloo Station, cross York Road (via the footbridge is probably the safest way – it's a busy road), then cross the large plaza, or walk down Chicheley Street towards the London Eye (the big wheel with pods on). The entrance to County Hall and the Movieum is just round the corner to the left (it faces the River Thames).
NOTE: Our London audition is now closed, so the specific directions are for auditionees only, unless you are looking to visit the Movieum of London, which is right next door.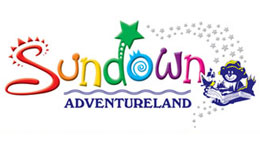 After several weeks of emails, letter writing, and phone calls, Backyard Productions has managed to secure its most important location for "Cinders". Sundown Adventure Land have kindly agreed to work with the BYP team and allow us to film the outdoor scenes at their wonderful children's theme park.
Executive Bully,
Darren Scales
, Production Designer
Ed Hollingsbee
, and Writer / Composer
Mark Scales
met with the Sundown team armed with the
BYP Showreel
,  bags of ideas and enthusiasm and one or two dresses (yes that's right). After a very upbeat chat and plenty of coffee, The Sundown team were very happy to participate in the production.
[Read more]
Backyard Productions have had some important meetings and the plan for the Cinders production is starting to come together. The story for the film is developing rapidly. We have had our first plot-line production meeting in which the characters of the story went through many transformations. We've come up with a cracking story, but it's […] [Read more]
A new set of informal video podcasts on our feed, chronicling our experiences during the production of our latest film 'Cinders'. Featuring our Executive Bully – Darren. This is the first podcast in the series, offering an introduction to the project and an update on the latest exciting... [Read more]
During filming there's loads to get involved in. Filming, checking continuity, monitoring sound, producing live special effects and fanning overheated actors are just a few of the tasks that need doing. [Read more]
We need skilled makeup artists with equipment to bring our actors to Pantoland. With many extras to dress, there are plenty of costumes to be made. Help from any able sewer would be appreciated. [Read more]